AN ALL-IN-ONE POWERFUL AND INTUITIVE SOLUTION
All the features you need to launch your online video and audio streaming platform
Video Infrastructure 
An all-in-one technical solution including full set-up and deployment in a few days of  your streaming platform, maintenance, and updates

 Cloud hosting
Your platform and content are securely stored in the cloud 

  Encoding & Transcoding
Your videos are encoded in the proper sizes and formats to allow the best streaming experience

 CDN
Thanks to the power of our Content Delivery Network, your videos are delivered around the world at the speed of light 

  100% secured
The infrastructure is secured via data encryption and our SSL certificates, unique tokens, etc. 
Video player & CMS (catalog)
Your video content deserve the best

 An easy-to-use Content Management System 
Manage your hosted, external or live content simply from an intuitive interface

A world-class HTML 5 player 
Available on all devices, customizable and interactive, it supports all types of formats, Airplay, Chromecast 

Multilingual versions 
Add your subtitle files or separate audio tracks to offer multilingual versions of your videos 

Security & restriction
Ultra-secure encryption of your video streams, restriction of rights (geoblocking, time-limited access, release windows), limitation of the number of simultaneous views
Design & User experience
Create beautiful customized video platforms, accessible on all devices

Templates designs
Choose our ready-to-use responsive templates or customize entirely your platform 

A unique user experience 
Player in Picture in picture mode, favorite list, auto-play teasers, personal recommendations, etc.

Rich meta-data management
Picture covers, categories, genre, cast and crew, a wide list of parameters to boost content attractivity

Your platform is available worldwide
Our platforms are 100% multilingual, you can create your own video service in as many languages as you like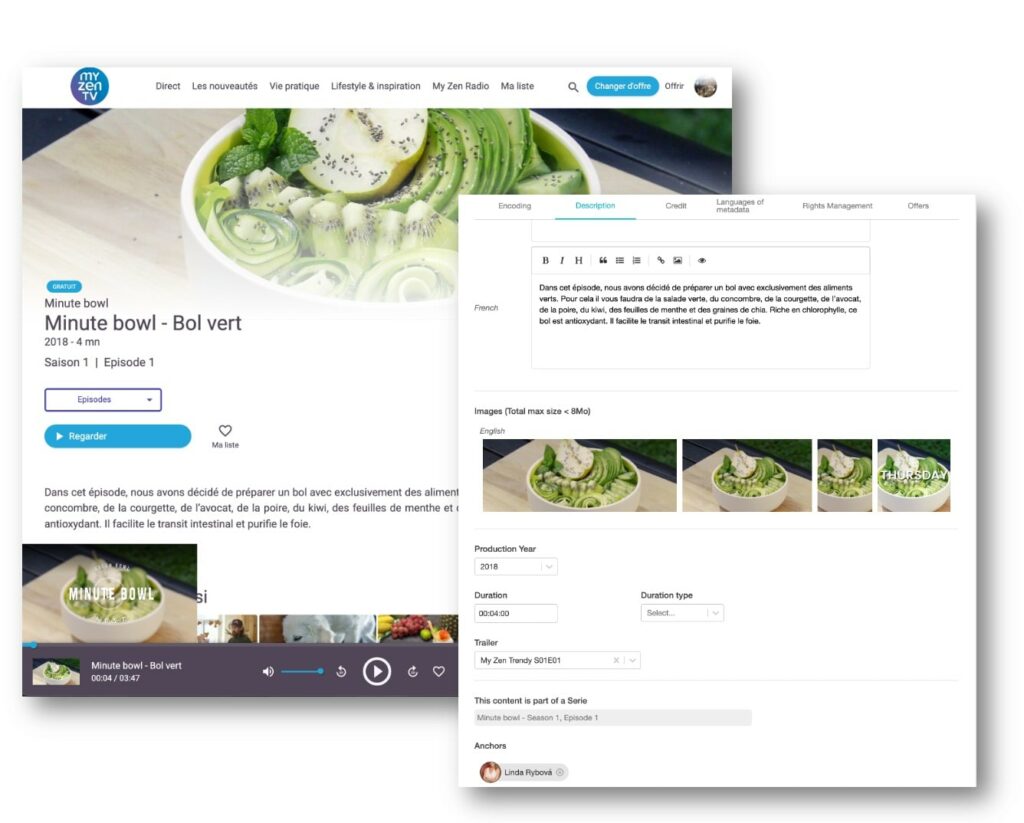 Business & Monetization 
Earn revenue from your videos

Flexible and multiple business models
Choose the most suitable monetization solution or a mix of several: subscription (SVOD), sale or rental (TVOD, EST), advertising (AVOD), Direct Carrier Billing (DCB), sponsoring, pay-per-view, e-cinema, etc.

Multi-currencies 
Thanks to Stripe, accept +135 currencies and offer your prices in the currency of your choice. Alipay also available

Boost your income with our tools 
Offer promotional coupons, gift cards, and free trial periods to grow your business

Real-time analytics
Track your revenue in real-time with our comprehensive dashboards 
Multi-distribution 
Be everywhere

Custom mobiles & TV apps  
Your platform is accessible on all devices (desktops, tablets, and mobiles), and you can deploy it on other applications: mobiles apps (iOs & Android), OTT TV apps (Fire TV, Roku, etc.), and Connected TVs (LG, Philips, Panasonic, etc.)

Manage all applications from the same CMS 
All platforms can have a different design and content offering, and updates are reflected simultaneously on all your applications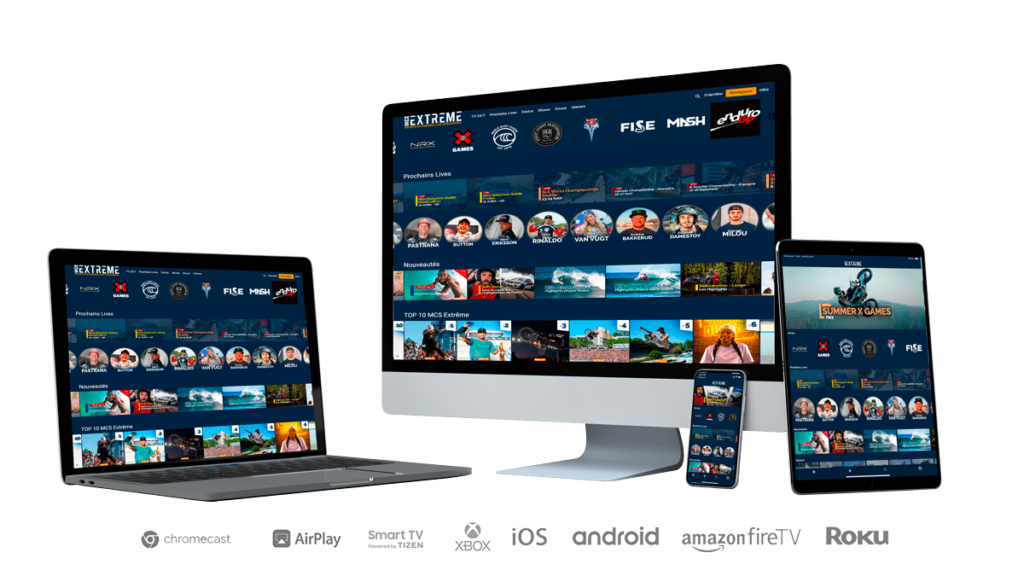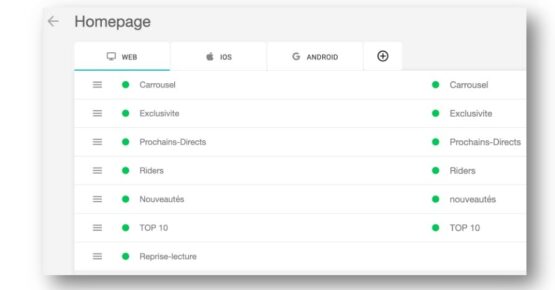 Automated marketing 
Best tools to grow your audience and visibility

Personalize the video experience 
Get the most of our algorithms to provide a unique user experience (Artificial Intelligence for video personalization & recommendation)

Engage your users at the right time  
Drive your editorial on business rules including territories, time, and subscriptions type to increase loyalty

Optimize audience retention 
Use Push Notifications, transactional emails, triggered by people's actions and behaviors

Connect OKAST with 5000+ apps
Create automation scenarios, synchronize your email campaign tools, and more with our native integration with Zapier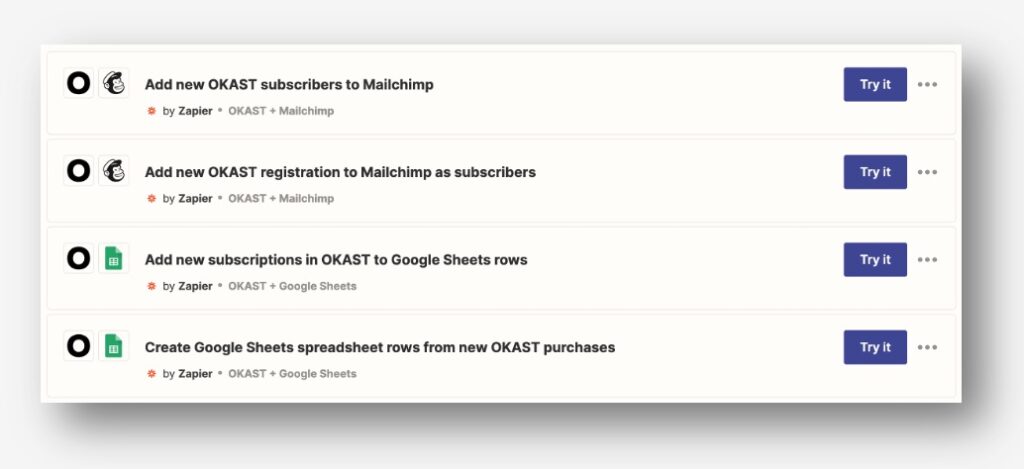 Create thousands of platforms, possibilities are endless
Build your playlists manually or automatically
Editorialize your series by seasons and episodes
Add rich text: links, images, bullets, quotes, etc.
Choose the format and number of resolutions of your streams 
Give a free access to your platforms to partners
Allow your viewers to offer subscriptions to their friends & family
This mode allows your viewers to navigate without stopping the playback of their video
Algorithmic
recommendation
Enable artificial intelligence to recommend similar content
Do you have a video streaming platform project?